---
News From Dr. Vidt
Up Date on Colchicine Availability
Posted By: Dr. Vidt
URL Pharma was recently purchased by Takeda Pharaceuticals, USA. Takeda has chosen to continue the Patient Assistance Program (PAP) extended to the Chinese Shar-Pei owners for Colcrys® (colchicine). The new application form is on my web site Home Page and should be used from now on.
Applicants must provide a valid Colcrys® prescription from a licensed veterinarian and must attest that Colcrys® will be used only for their Shar-Pei dog. Applicants who qualify for the program will be able to select a 30-day supply (60 tablets), a 60-day supply (120 tablets) or a 90-day supply (180 tablets) of Colcrys®. It is important to note that Colcrys® is not FDA-approved for veterinary use and URL Pharma does not promote the use of Colcrys® in animals. The application is attached to this update in a .pdf format.
Jeff Vidt, DVM (10/28/12)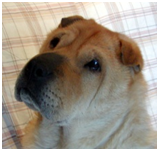 Click on the picture to download the application.
---
"THE ANSWER"
Posted By: Dr. Vidt

An important paper published March 17, 2011 in the journal PLoS Genetics has given important new information concerning the relationship between hyaluronan (as present in the folds and wrinkles of the Chinese Shar-Pei), FSF and amyloidosis. The link to the article "A Novel Unstable Duplication Upstream of the HAS2 Predisposes to a Breed-Defining Skin Phenotype and a Periodic Fever Syndrome in Chinese Shar-Pei Dogs" is at http://www.plosgenetics.org/article/info:doi/10.1371/journal.pgen.1001332 . An international research group at Uppsala University, Sweden and the Broad Institute of MIT and Harvard including Linda Tintle, DVM of Wurtsboro, New York has uncovered a copy number variant mutation upstream from the hyaluronan synthase2 gene (HAS2) responsible for the thickened skin and wrinkles characteristic of the breed. This duplication event is not found in other breeds. Increased copy number variant (CNV) is associated with increased HAS2 expression and also increased incidence of FSF and amyloidosis. Copies of the duplication increase the risk for FSF and the overproduction of hyaluronan is the predisposing factor.

A genetic test for FSF is currently undergoing validation studies with a large number of samples collected in October 2010 from dogs at the Chinese Shar-Pei Club of America's 2010 National Specialty as well as samples from Shar-Pei in Sweden and Spain. Genetic test results are currently being correlated to individual health records to develop a commercial test which is accurate, meaningful and useful in the fight to decrease the incidence of FSF and amyloidosis in the breed.

I am very thankful to Shar-Pei owners and breeders who have contributed to this research through the Chinese Shar-Pei Club Charitable Trust and in providing blood samples of your dogs. Your commitment over the years has finally produced fruit. More information is available on Dr. Linda Tintle's web site at http://www.wvc.vetsuite.com/Templates/Clean.aspx .


"The Answer Continued" in the Health Issues Section.



---
Lens Luxation Study at the University of Missouri
Posted By: Dr. Vidt

Lens Luxation Study at University of Missouri
Primary lens luxation is an eye problem which is hereditary on the Chinese Shar-Pei. The lens is held in place in the eye by fibers called zonules. If these fibers are weak, not located properly around the circumference of the lens capsule, or break, the lens can fall out of its normal position or "luxate". The lens typically moves forward against the iris blocking the pupil and interfering with movement of aqueous fluid into the drainage angle which is located around the base of the iris. This can result in an increase in intraocular pressure known as secondary glaucoma which can result in loss of vision.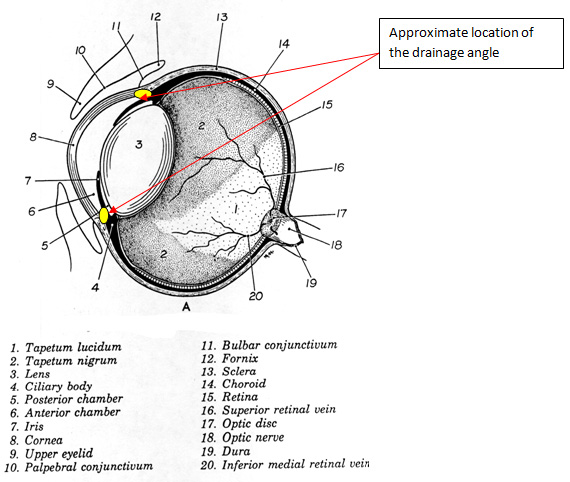 When the lens luxates immediate veterinary attention is required to remove the displaced lens and prevent secondary glaucoma and loss of vision.
The University of Missouri College of Veterinary Medicine has developed a DNA test for primary lens luxation in the Chinese Shar-Pei. It has been found in the same gene that causes primary lens luxation in other breeds but is caused by a different mutation at this location. Dr. Gary Johnson is requesting blood samples from Shar-Pei to test for the mutation. He suggested that any Shar-Pei with glaucoma should be evaluated for primary lens luxation. The accompanying PDF download has all the necessary information for Shar-Pei owners to participate in the study. Thanks, in advance, for your help in this study.
Jeff Vidt, DVM
Chairman of the Health Committee, CSPCA (4/2010)
---